VAS 5054A
is Popular Vag diagnostic tool for Volkswagen Group vehicles and all OBD vehicle systems from other manufacturers,mainly do AUDI VW Seat.VAS5054A is bluetooth version which connects the vehicle with a notebook, desktop PC or test system.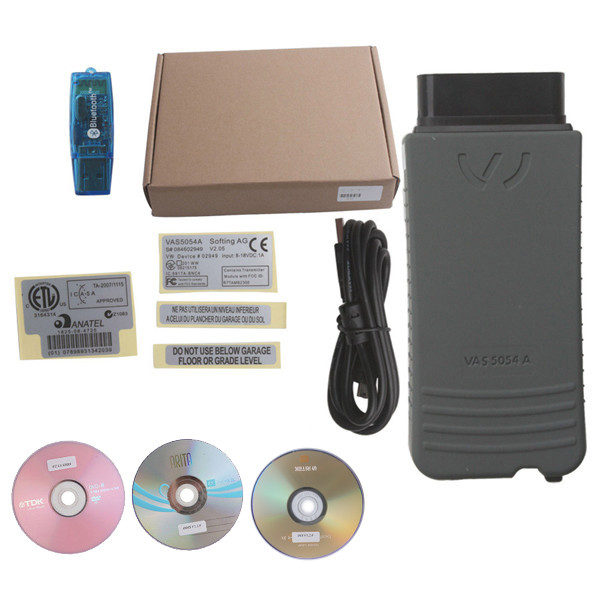 VAS 5054A Support Multi-Language:

English/Japanese/Portuguese/Romanian/Korean/Dutch/Polish/Turkish/Spanish/French/Italian/Croatian/Danish/German/Swedish/Finnish/Slovenian/Czech/Russian/Greek/Chinese
VAS 5054A Supported Car Models:
VW, AUDI, SKODA, SEAT Bently and Lamborghini
VAS 5054A Supported Vehicle Bus Systems:
K line (ISO9141-2)
High-speed CAN (ISO 11898-2)
Low-speed CAN (ISO 11898-3)
J1850 (SAE J1850)
The Way To Use VAS5054A:
1.Access Via Bluetooth:
After a connection to the VAS 5054A has been set up, the Bluetooth software provides a virtual serial COM port (Bluetooth Serial Port Profile). The Diagnostic Base System uses this COM port to communicate with the VAS 5054A.You need to specify this port when you install the diagnostic application.
2.Access Via USB:
You can also connect the VAS 5054A to the application PC by using the supplied USB cable. Windows detects the VAS 5054A through Plug and Play, and automatically installs the drivers copied when you installed the diagnostic application. Setup of the VAS 5054A is then complete and the device is ready for use by the diagnostic application.
VAS 5054A Computer Windows System Requirements:

Windows System Language: American English
Windows XP(xp2/xp3)
System C:// have to be NTFS format
C:// need to have at least 10GB space for installing VAS 5054A